"High on the wind" eine mehrkanalige Raumklangeinrichtung
FM Einheit and Vinzenz Schwab
29 April – 16 July 2023
Opening: Saturday 29 April, 14:00–18:00 (
more info)
Swing in - Swinging out
FM Einheit, Siegfried Zielinski, Rica Blunck, Saskia von Klitzing and Volker Kamp
Performance
Saturday 29 April, 16:00
Einheit will perform live alongside collaborators Siegfried Zielinski, Rica Blunck, Saskia von Klitzing and Volker Kamp in the Turbine Hall. Please book tickets
here.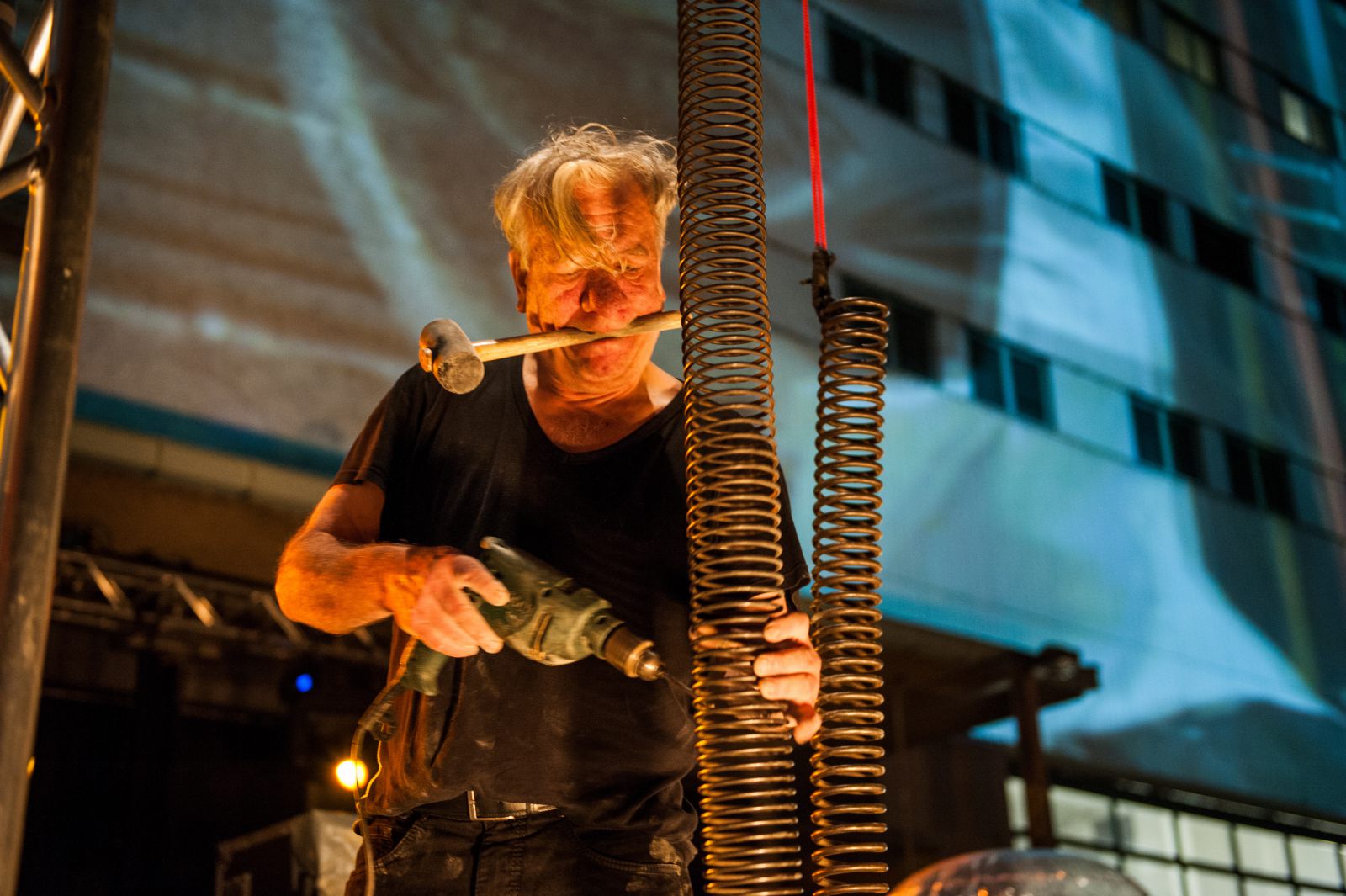 The sound and material researcher FM Einheit was a founding member of the legendary experimental music group
Einstürzenden Neubauten.
Founded in West Berlin in 1980 the group is synonymous with the refusal of musical tradition and laws. FM Einheit's self-made instruments are created out of industrial waste which, through skilled, affectionate and respectful handling, become portals to new musical worlds and sounds. By instrumentalising the urban and natural landscape, Einheit harnesses the sound of stone, metal, sand, water, flesh, cities, forests and oceans, to create radically visceral new compositions. Vinzenz Schwab's work moves between the fields of electroacoustic composition, live electronics, film music and sound design.
Within the framework of
The Material Revolution,
Einheit and Schwab have composed a sound installation for E-WERK Luckenwalde that combines sonic samples from the industrial landscape of E-WERK, such as the 1913 mechanical conveyor belt, self-engineered wood chip machine and clanking engine room with a real-time instrumentalisation of the building - making the historic brown coal power station reverberate with sound.
About FM Einheit
Dortmund born FM Einheit (FM Strauß) is an industrial and electronic musician, composer for film, radio, exhibitions and actor, primarily known for his percussion and compositional work with Einstürzende Neubauten, notably on the classic albums: "Kollaps", "Halber Mensch", "Haus Der Luege", "Tabula Rasa". He played the lead role in the 1984 feature film Klaus Maeck's "Decoder". He has also collaborated with musicians such as: Diamanda Galás, Eraldo Bernocchi, Mona Mur, Rio Reiser, Marianne Rosenberg, PanSonic and many more. He is also known for his radio work with Andreas Ammer and received the prestigious "Hörspielpreis der Kriegsblinden" twice. His latest works are podcasts FM Modul @muiscaeterna.org, l'exposition d'un rêve @fondation Calouste Gulbenkian, Paris and the soundtrack for the film Der Goldene Handschuh by Fatih Akin.
About Vinzenz Schwab
Vinzenz Schwab (*1981, Eastern Styria) Schwab's work moves between the fields of electroacoustic composition, live electronics, film music and sound design. He deals with material matter as sound material and explores its transformation possibilities. He has released three albums and several online releases of his work to date, in which he also explores other sound systems - especially the 'Lucy Harrison scale'. His live set-up consists of specially programmed 'patches' for intuitive sound manipulation on the compute
r by
means of various control units. Fifteen of his multi-channel pieces have been performed so far (concert or installation). These works were composed with the software Vasp & Amp, whereby complex operations can be performed in different domains - holistic ('giant') or granular - as well as algorithmic compositions with a time-free, multidimensional sequencer with an unlimited number of controllable parameters and any number of tracks (multitrack application) can be performed. Schwab has performed internationally at events including Wien Modern, Musikprotokoll, Realdeal Festival, Insomnia Festival, Fourier Festival, Diagonale, Viennale, Polyfokt, Insideout Festival, Temple of Sound.