Tree Mountain, Wheatfield and The Living Pyramid
Agnes Denes
29 April – 1 July 2023
Opening: Saturday 29 April, 12:00–18:00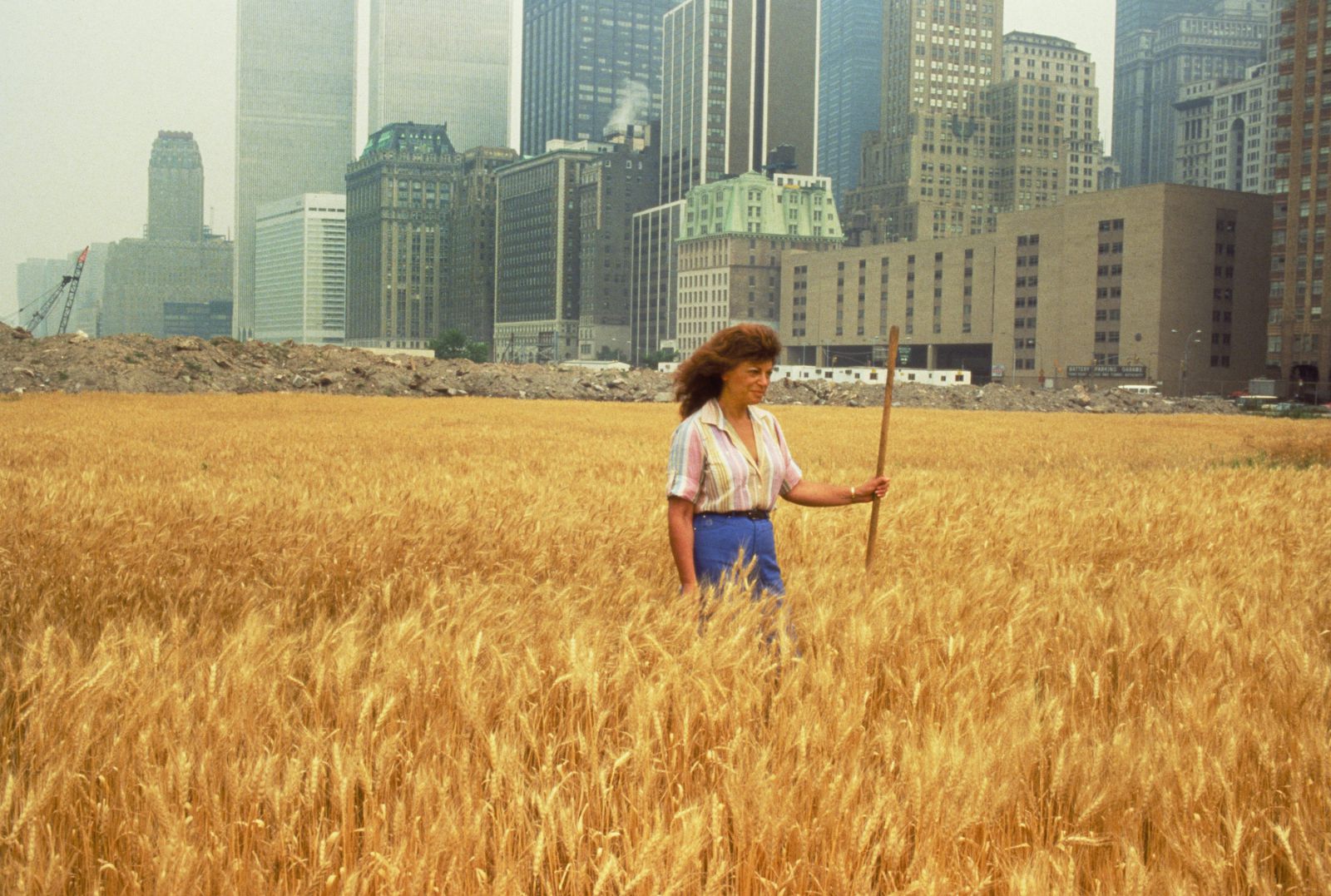 Agnes Denes, Wheatfield—A Confrontation: Battery Park Landfill, Downtown Manhattan—With Agnes Denes Standing in the Field, 1982. Photo: John McGrail. Courtesy of Agnes Denes and Leslie Tonkonow Artworks + Projects.
Two digital projections of Tree Mountain and Wheatfield as well as the film The Living Pyramid by the legendary ecological land artist Agnes Denes are presented as part of The Material Revolution. Nonagenarian Agnes Denes has worked at the intersection of land-art, eco-feminism, mathematics and philosophy for over fifty years.
These works often had a prophetic quality including her iconic urban intervention Wheatfield – A Confrontation, in which she ambitiously planted a two-acre amber field of grain under the eyes of the Twin Towers and Wall Street in 1982, or Tree Mountain, a community land reclamation project in Finland initiated in 1982 and inaugurated in 1996, or her powerful environmental interventions and a large-scale earthworks, such a the Living Pyramid, first realised in 2015.
About Agnes Denes
Agnes Denes was born in Budapest, raised in Sweden, and educated throughout the United States. She has participated in more than 600 exhibitions at galleries and museums internationally. A primary figure among the concept-based artists who emerged in the 1960s and 1970s, Agnes Denes is internationally known for works created in a wide range of mediums and widely regarded as a pioneer of environmental and land art.