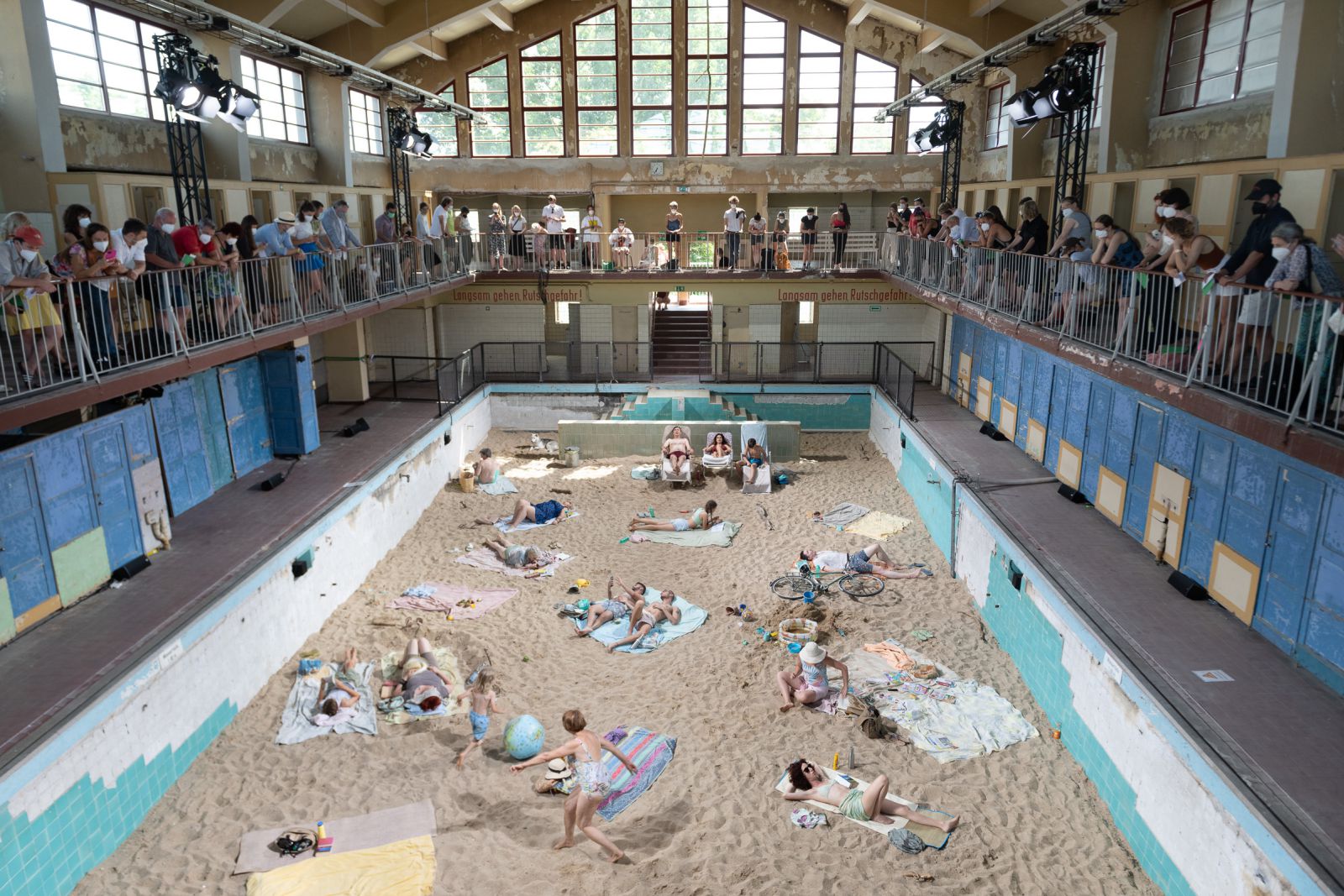 Sun & Sea
An opera-performance by Rugilė Barzdžiukaitė, Vaiva Grainytė and Lina Lapelytė
17 & 18 July 2021
Curated by Lucia Pietroiusti
Produced by E-WERK Luckenwalde
Sun & Sea was made possible by Fonds Darstellende Künste with funds from the Federal Government Commissioner for Culture and the Media, E.ON Stiftung, Lithuanian Kulturalattaché, the generosity of Laurenz Foundation, Basel, Nicoletta Fiorucci Russo De Li Galli, Sprüth Magers and through a crowdfunding campaign. Lucia Pietroiusti will also curate POWER NIGHT 2021, which will take place from September 2021 - May 2022.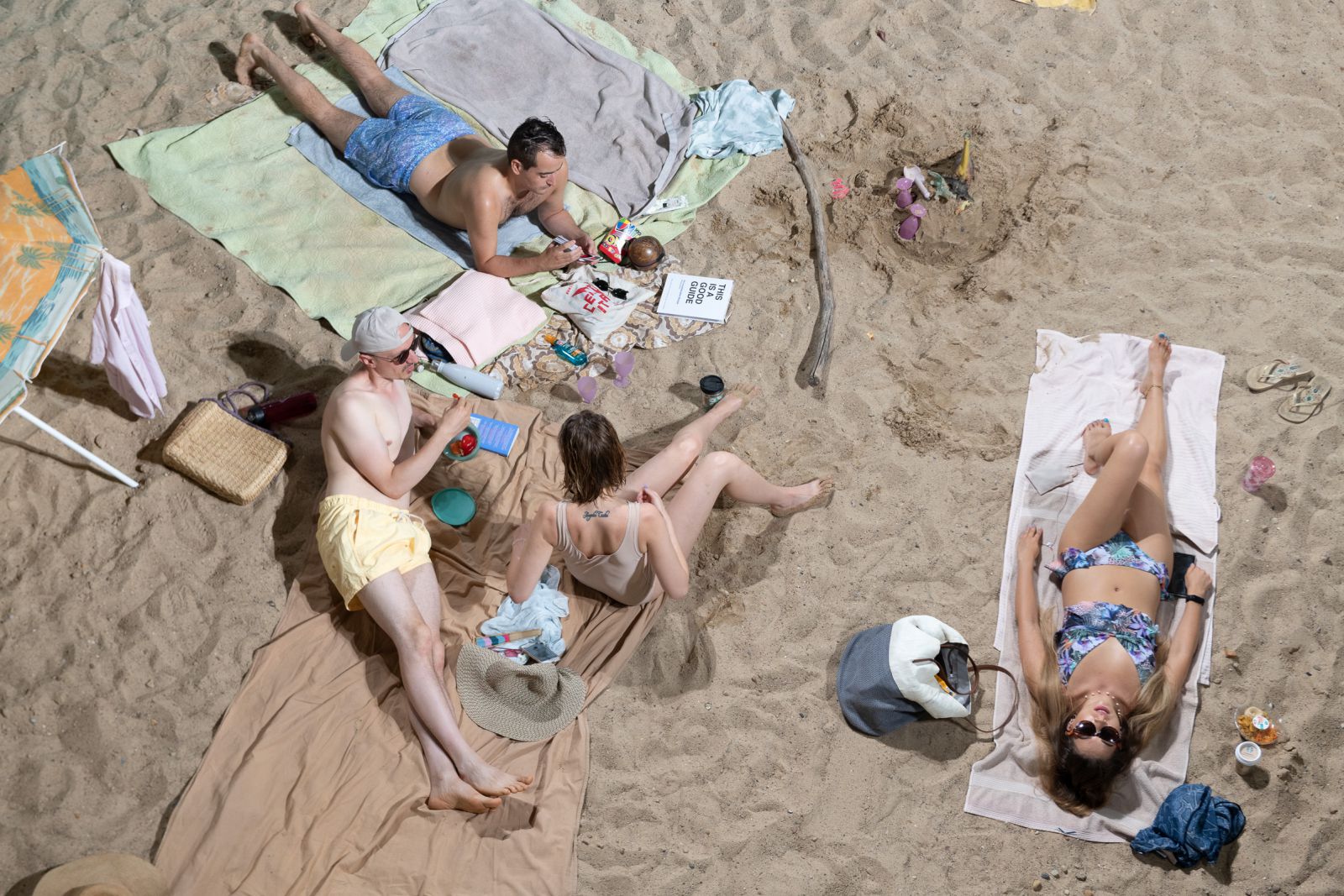 Sun & Sea is an opera by Lithuanian artists Rugilė Barzdžiukaitė, Vaiva Grainytė and Lina Lapelytė, set on an indoor beach filled with parasols, holidaymakers, dogs and children. In their songs, performers warn of climate change and impending ecological disasters. The work was awarded the Golden Lion at the Venice Biennale 2019 and was presented in the empty Bauhaus Stadtbad Luckenwalde in July 2021 - complete with 100% CO2-neutral Kunststrom electricity, heat and light!
E-WERK powered the performance with 100% CO2 neutral energy generated through a wood gasification technology on site at E-WERK Luckenwalde. For the first time the performers were heated to a comfortable temperature with a self build and recycled underfloor heating in the sand. The waste heat from E-WERK warmed water which was transported to the Stadtbad through a heat resistant fireguards hose, resulting in a specially engineered underfloor heating system beneath the sand. No further heating system with fossil fuels was necessary.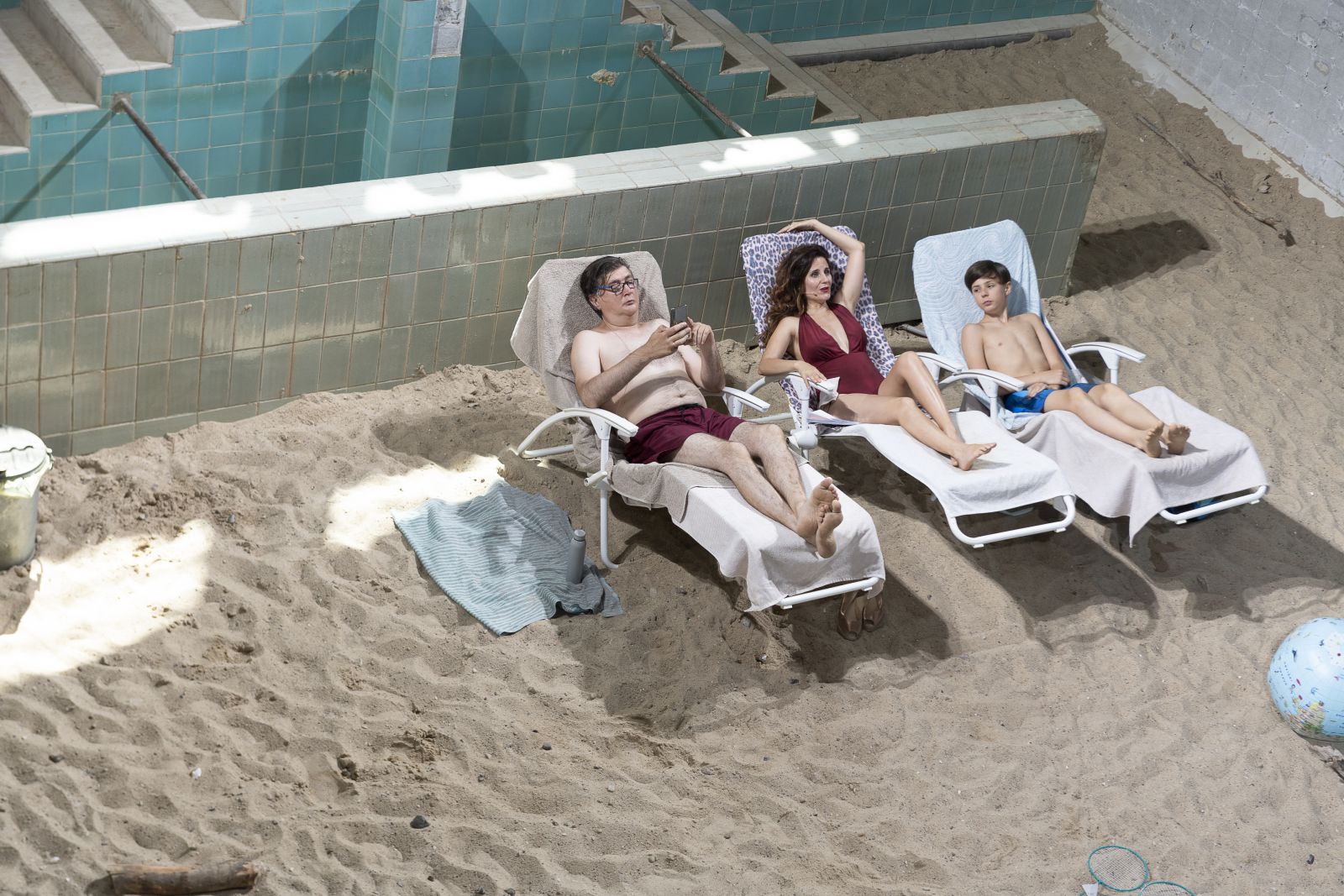 "Imagine a beach—you within it, or better: watching from above—the burning sun, sunscreen, bright bathing suits, sweaty palms and legs. Tired limbs sprawled lazily across a mosaic of towels. Imagine the occasional squeal of children, laughter, the sound of an ice cream van in the distance. The musical rhythm of waves on the surf, a soothing sound (on this particular beach, not elsewhere). The crinkling of plastic bags whirling in the air. Their silent floating, jellyfish-like, below the waterline. The rumble of a volcano, or of an airplane, or a speedboat. Then a chorus of songs: everyday songs, songs of worry and of boredom, songs of almost nothing." 
Lucia Pietroiusti, 2019
An ecological work at its core, Sun & Sea takes place on an artificial beach composed through light, architecture and music. In the heat of the midday sun, vacationers sing their stories, unfold their thoughts. As these multiply, everyday micro-events slowly give rise to broader, more distributed anxieties on planetary-scale, anthropogenic climate change. The setting – a crowded beach in summer – paints an image of laziness and lightness. In this context, the message follows suit: contemporary crises unfold easily, softly – like a pop song on the very last day on Earth.
Rugilė Barzdžiukaitė (b.1983, based in Vilnius) works as a filmmaker, theatre director and visual artist. In her creative practice, Barzdžiukaitė explores the gap between objective and imagined realities, while challenging an anthropocentric way of thinking in a playful way. Her recent full-length documentary film-essay Acid Forest was awarded at the Locarno International Film Festival among others, was shown at the National Gallery of Art in Washington, Lincoln Center in NYC, American Film Institute festival in LA and many other events and venues for cinema and contemporary art. Sun & Sea is her latest collaboration in the medium of performance.
Vaiva Grainytė's (b. 1984, based in Lithuania and Canada) text-based practice shifts between genres, interdisciplinary theatre works and publications. As a writer, playwright, and poet she takes action as an observant anthropologist: challenged by Grainyte's poetic interpretation, mundane social issues take on a paradoxical and defamiliarised nature. Her book of essays Beijing Diaries (2012) and the poetry collection Gorilla's Archives (2019) were nominated for the Book of the Year awards, and included in the top twelve listings of the most creative books in Lithuania. Her oeuvre has been translated into over 10 languages. Her upcoming, bilingual, cross-genre novel, Roses and Potatoes (2022), deconstructs the contemporary enforcement of happiness.
Lina Lapelytė's (b.1984, works in Vilnius and London) performance-based practice is rooted in music and flirts with pop culture, gender stereotypes and nostalgia. Her works engage trained and untrained performers often in an act of singing through a wide range of genres such as mainstream music and opera. The singing takes the form of a collective and affective event that questions vulnerability and silencing. Her recent and upcoming shows include Cartier Foundation, Paris, Tel Aviv Museum of Art; RIBOCA2 – Riga biennale; Tai Kwun, Hong Kong; Glasgow International; Kunstenfestivaldesarts, Brussels; Kaunas Biennale, Lithuania; Pompeii Commitment and Castello di Rivoli, Italy.
In their collaborative practice, the artists pay special attention to the relationship between documentary and fiction, reality and poetry as well as the overlap of theatre, music and the visual arts.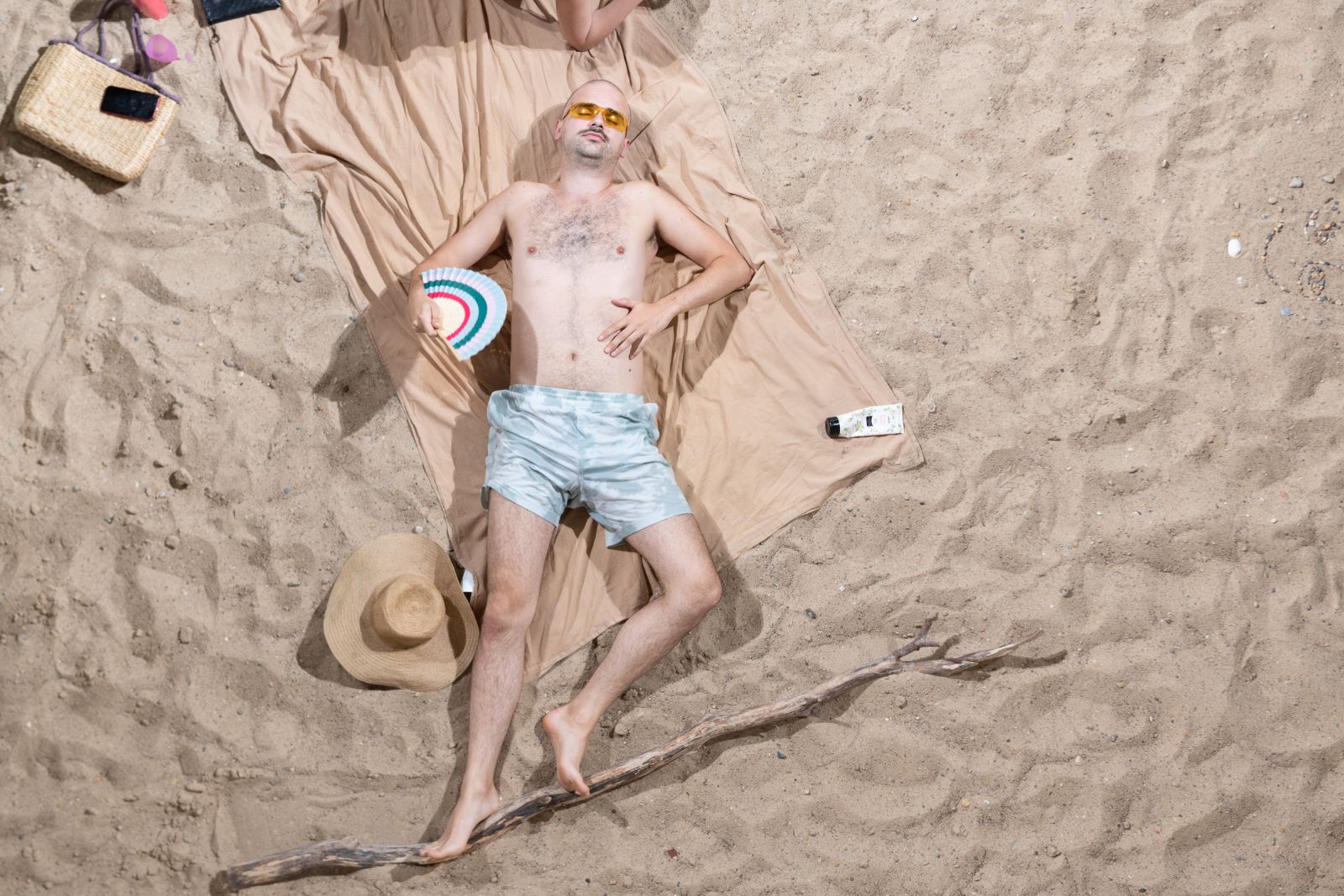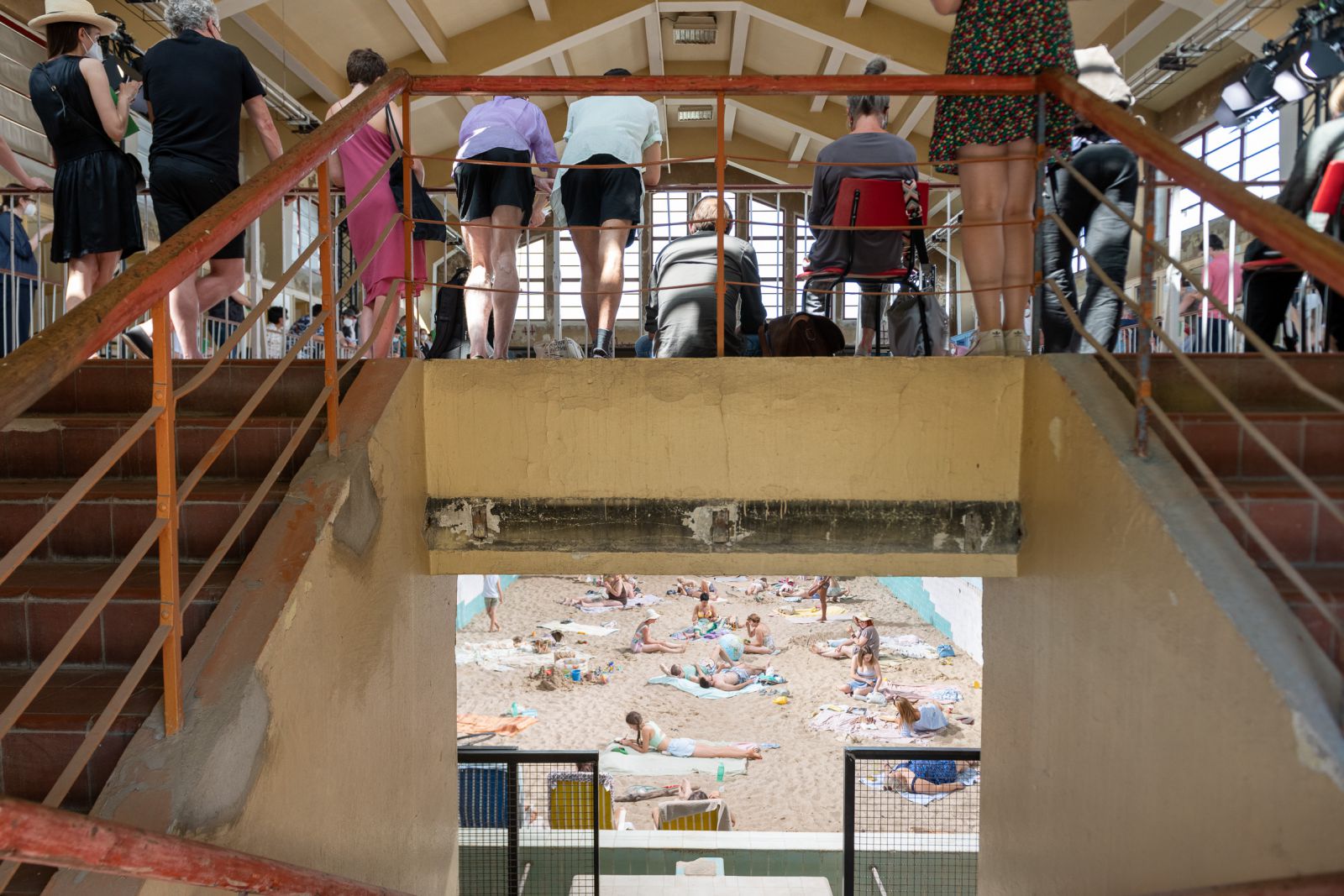 Sun & Sea
An opera-performance by Rugilė Barzdžiukaitė, Vaiva Grainytė, and Lina Lapelytė
Concept and development – Rugilė Barzdžiukaitė, Vaiva Grainytė, and Lina Lapelytė
Director and set designer – Rugilė Barzdžiukaitė
Lyrics – Vaiva Grainytė
Translator (Lithuanian to English) – Rimas Užgiris
Composer and music director – Lina Lapelytė
Curator – Lucia Pietroiusti
Tour producer – Aušra Simanavičiūtė
Tour coordinator / stage manager – Erika Urbelevič
Technical director – Lique Van Gerven
Visual identity – Goda Budvytytė
Catalogue and vinyl concept and design – Åbäke
Sound engineer – Romuald Chaloin Galiauskas
Live soundtrack – Salomėja Petronytė
Singing performers – Aliona Alymova, Svetlana Bagdonaitė, Marco Cisco, Auksė Dovydėnaitė, Saulė Dovydėnaitė, Claudia Graziadei, Lucas Lopes Pereira, Artūras Miknaitis, Vytautas Pastarnokas, Eglė Paškevičienė, Kalliopi Petrou, Ieva Skorubskaitė, Nabila Dandara Vieira Santos.
Performers: Raminta Barzdžiukienė, Vincentas Korba, Ona Lapelienė, Jeronimas Petraitis, Juozas Petraitis, Pranas Petraitis, Jonas Statkevičius, and others.
Founding producer – Neon Realism
Co-producers – Nida Art Colony of Vilnius Academy of Arts, Akademie Schloss Solitude Goethe-Institut, Münchner Kammerspiele, National Gallery of Art in Vilnius, Staatsschauspiel Dresden, The Momentary, Arkansas
Sponsor – JCDecaux
Commissioner (Sun & Sea (Marina), Venice, 2019) – Rasa Antanavičiūtė
Founding Patrons (Sun & Sea (Marina), Venice, 2019) – Lithuanian Council for Culture, Ministry of Culture of the Republic of Lithuania, Laurenz Foundation in Basel, Vilnius City Municipality