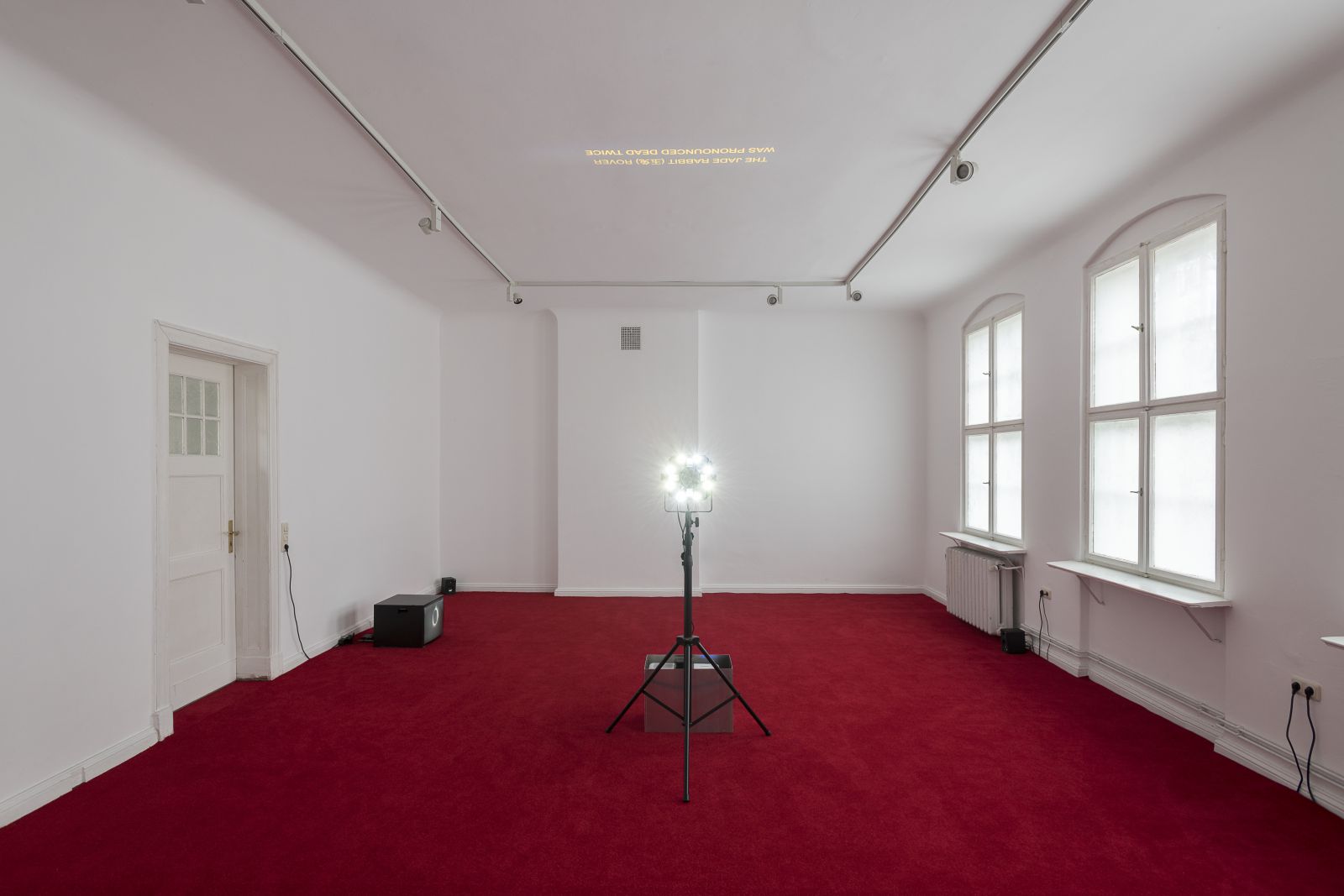 Revital Cohen & Tuur Van Balen, Three Hearts (Phthalo Blue & Titanium White Strobe), 2021
For POWER NIGHTS: Being Mothers, Revital Cohen & Tuur Van Balen will present the video installation Three Hearts in Gallery One. Three Hearts is devised as a blocking rehearsal towards Heavens - a work which begins from a scientific theory proposing that the octopus has evolved from a squid infected by an extraterrestrial virus carried on a meteorite. Using audiovisual methodologies borrowed from planetariums, aquariums and raves, the work uses this hypothesis as a point of departure from which to think about escape, viral spillovers, and interplanetary ecologies.

About Revital Cohen and Tuur Van Balen
Revital Cohen and Tuur Van Balen (b.1981, based in London) work across objects, installation and film to explore processes of production as cultural, personal and political practices. Their practice could be thought of as 'situated', where the making of the work is performed within particular networks. The choreography of labour and extraction of minerals have been long-standing interests, followed by the many forms of reality generated by the gambling industry. Animal bodies (human or otherwise) are a recurring consideration; in particular how these are shaped by the situations in which they operate. Rehearsals seem to return as well.
Selected Exhibitions
Recent solo shows took place at Z33 Kunstencentrum, Hasselt; Stanley Picker Gallery, Kingston; Mu.Zee, Ostend; de Brakke Grond, Amsterdam, and Schering Stiftung, Berlin. Selected group exhibitions include Walker Art Center, Minneapolis; The 13th Shanghai Biennale; The Renaissance Society, Chicago; Para Site, Hong Kong; Thyssen-Bornemisza Art Contemporary, Vienna; Fotomuseum Winterthur; Haus der Kulturen der Welt, Berlin and Museum of Contemporary Art, Tokyo. Recent film screenings took place at the Serpentine Cinema, London; The Toronto Biennale 2019; Philadelphia Museum of Art and Congo International Film Festival, Goma. Their work is part of the permanent collections of the Museum of Modern Art, New York and M+ Museum, Hong Kong.
Credits
Heavens is co-commissioned by Malevich.io and Serpentine Galleries for the Serpentine's Back to Earth project. Rehearsals towards Heavens were presented as Three Hearts at Shanghai Biennale 2021 (April–July 2021) and will be presented at E-WERK as part of POWER NIGHTS 2021.