the long sleep of amber
Peles Empire
Exhibition
1 May – 18 July 2021
E-WERK Luckenwalde Turbine Hall
Co-curated by Helen Turner and Adriana Tranca
Thursday – Saturday, 11:00 – 18:00 by appointment. Please email info@kunststrom.com.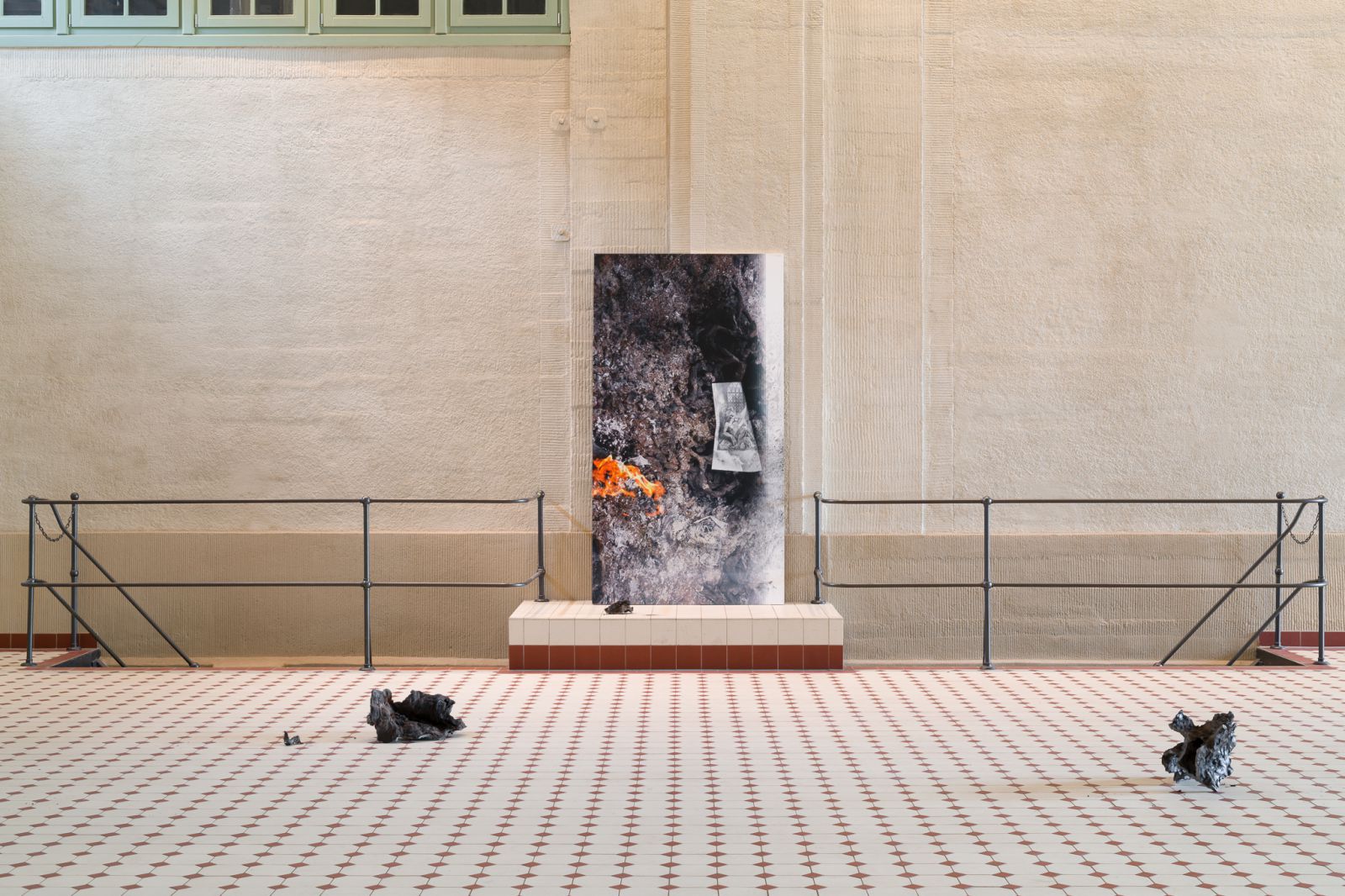 Peles Empire have created a large-scale installation for the Turbine Hall and building's historic flagpoles, drawing on materials including Jesmonite, ash, ceramics, photography and textiles. This work connects the material history of the power station with contemporary processes in a fitting tribute to the transformation of E-WERK from a relic of the fossil fuel era into a contemporary ecological power station.
As a starting point for their commission, Peles Empire began exploring the ancient, mythological and forgotten narratives of electricity. Although Benjamin Franklin is officially credited as inventing electricity (1752), and Benjamin Edison sanctified as its industrial Father (1882), electricity is of course energy belonging to the natural world, and not invented. The title pays homage to the earliest discoveries of electricity, in particular the Ancient Greeks, who in ca. 600 BC discovered static electricity by rubbing fur on amber; Greek for electron. Throughout the exhibition Peles Empire play with this breaking point between science and mythology and hierarchical tensions of value, knowledge construction and linear time progression to problematise the concepts of discovery, invention, illusion, reality and the arrogance of present society to presume that contemporary knowledges reign superior.
For their exhibition at E-WERK, Peles Empire have cast five large panels in Jesmonite and vestigial wood ash from the power station's furnaces; the only waste product E-WERK produces as a renewable power station. These panels have been printed with contemporary images including in process activity from the artists studio and early experiments with electricity on the human body such as archival etchings of Mary Shelley's Frankenstein. These works are deliberately leant against the wall, as a symbolic nod to their hybrid position between being an image and a sculpture, an unfinished product without a beginning or end, but chiefly concerned with a material process.
Across the Turbine Hall these panels are presented alongside several large-scale ceramic works. These include the largest work meteorically placed in the centre of the room, based on an early Mesopotamian depiction of Girra, the God of fire and light. The ceramics were created on site and fired using the three day process of a pit firing in the E-WERK Grounds. It was important that these works were not only fired via one of the most ancient ways to make clay harden, but also used the power station's supply of wood chips; the same material contemporaneously used to create Kunststrom electricity at E-WERK in order to lace different time periods together. Black ash from the pit firing was also layered into the Jesmonite panels to further create anachronistic landscapes and new pockets of illusion.
The symbiotic relationship of fire and electricity is played out on the flags, which grace the entrance to the building and work to underline the continuous theme of contingency and control in the artists' work. Fire and electricity are both a fleeting, almost illusionistic natural phenomenon equally impossible to grasp or fully control, with the potential to precariously swing between pure destruction and creation
In the long sleep of amber Peles Empire have entropically cocooned natural elements of the power station, from carbon to heat, via the contingent processes of ceramics and casting, to hint at the fleeting precarity of time, history and social innovation.
The long sleep of amber is co-curated by Helen Turner (Artistic Director and Curator, E-WERK Luckenwalde) and Adriana Tranca (Assistant Curator, E-WERK Luckenwalde).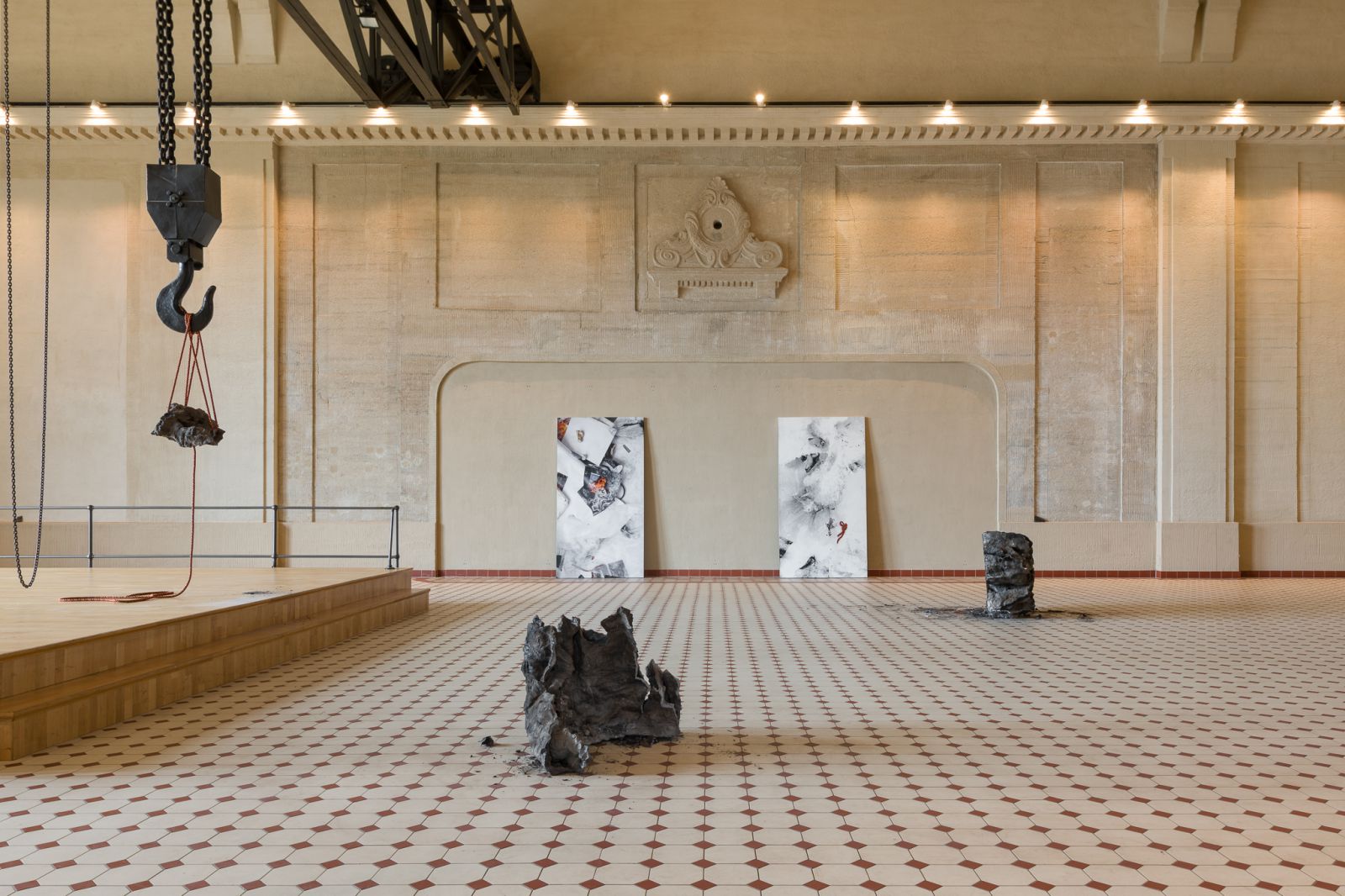 About Peles Empire
Peles Empire live and work in Berlin, Germany and take their name from Peleș Castle, a Romanian historicism castle built in 1883. In their work Peles Empire explore the potential of simulacra, copies, originals and reproduction - shifting processes to abstract perspectives. Their work has recently been shown at the Künstlerhaus Graz, Art Encounters Biennial (Timișoara), Scottish National Gallery of Modern Art (Modern One), Edinburgh, Kunstverein Hannover and Skulptur Projekte Münster.
About the annual Flag Commission
Peles Empire were invited to produce work in response to the building's historic flagpoles at the entrance of E-WERK Luckenwalde. The Flag Commission is an annual commissioning opportunity for an artist or collective to create an outdoor installation inspired by and for display on the three flag poles at the building's impressive entrance. As an outdoor commission, the flags will be on view to the public until December 2021. The inaugural E-WERK Luckenwalde Flag Commission Electric Blue was created by artist Lucy Joyce.