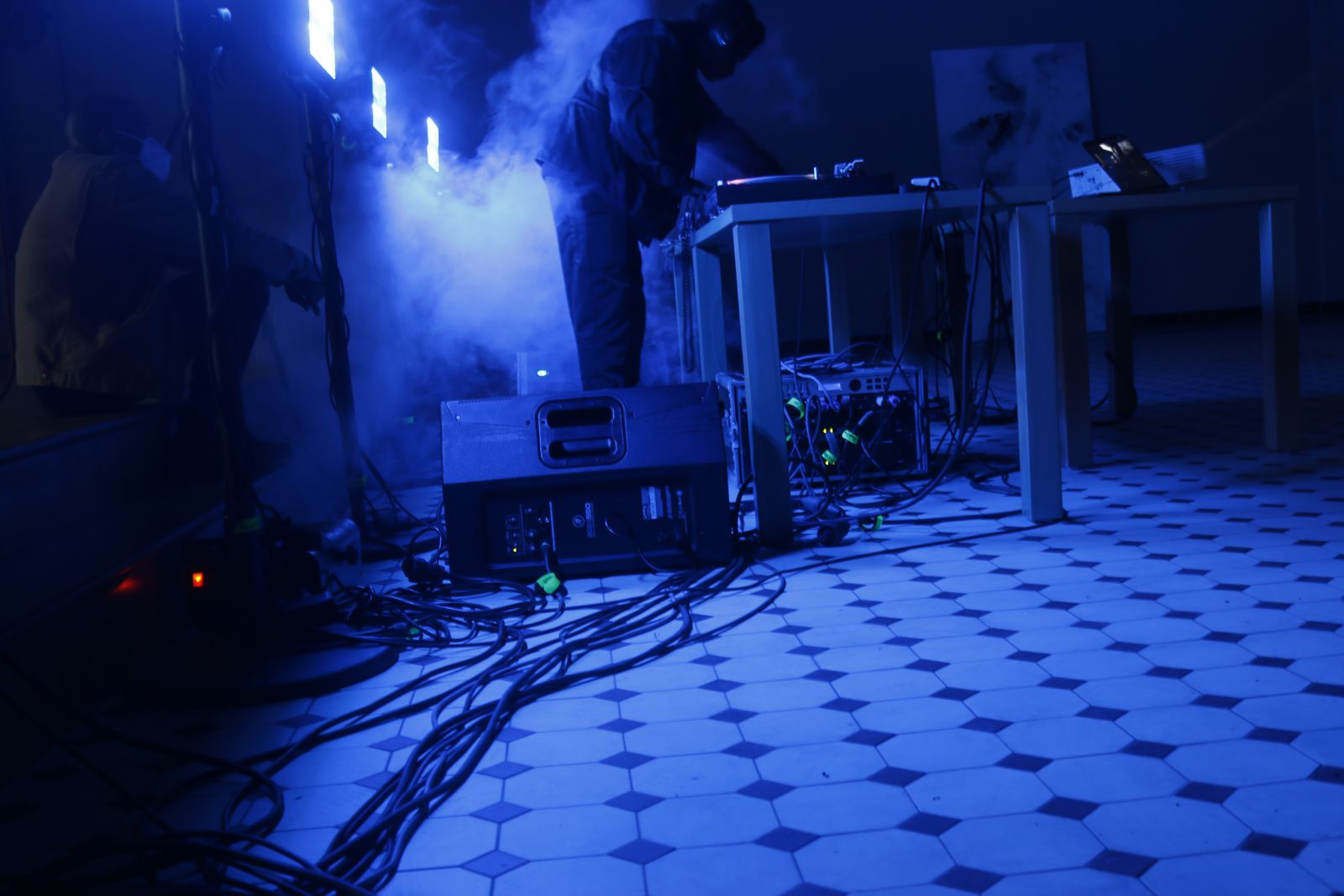 Lamin Fofana in collaboration with Nicolas Premier, Every recording is a disappearance, 2021
Artist Lamin Fofana, in collaboration with Paris-based filmmaker and musician Nicolas Premiere have developed a site specific audio and video piece at E-WERK. The duo used both audio and video field recordings of E-WERK's indoor and outdoor spaces, and of the team, collated over a two day micro residency to present a new process based performative work.
Considering the ways archival impulses can be resisted, Fofana's interest lies in marking absences rather than presences; how is history shaped through exclusion and silence? Historical records and contemporary (self)representation coalesce, questioning the validity of the so-called neutrality and passiveness of archives. Contingency and ephemerality, traditional enemies of archives, are favoured and allowed to be seen and heard.
The audio-video work was experienced by a handful of people on site. True to Fofana's practice, the piece is also about resisting the archival impulse. In defiance of concretising history and legacy construction this work was available for only a limited time on our website, and is to be read as one of many possible audio-video digital manifestations of the work. That is to say not one of the recordings will ever remain one, but rather disappear as others reappear.
Lamin Fofana
Lamin Fofana is an artist and musician currently located in Berlin. His music contrasts the reality of our world with what's beyond, and explores questions of movement, migration, alienation and belonging. Fofana's overlapping interests in history and the present, and his practice of transmuting text into the affective medium of sound, manifests in multisensory live performances and installations featuring original music compositions, field recordings and archival material. His latest releases include Black Metamorphosis, Darkwater, and Blues (an album trilogy). Fofana has been shortlisted for the Preis der Nationalgalerie 2021. He hosts a monthly radio show focusing on black music and Afrodiasporic traditions on NTS Radio, an online station based in London.
Nicolas Premier
Nicolas Premier is a French-Congolese artist and filmmaker living and working in Paris. His work questions globe representations from its margins and off-screen perspectives, those rooted in African and Afro-diasporic experiences and affects, as they inform Modernity from the inside. Nicolas Premier is the founder of AITF (AFRICA IS THE FUTURE) a transmedia project, which last iteration is a film that navigates the visual economies assigned to the African societies and diasporas, as a form of reappropriation of the Imaginary, myths and narratives, genuine matrixes of futures. He is the recipient of the 150/ HBO/Warner grant for his film The Tears That Touch The Sun.