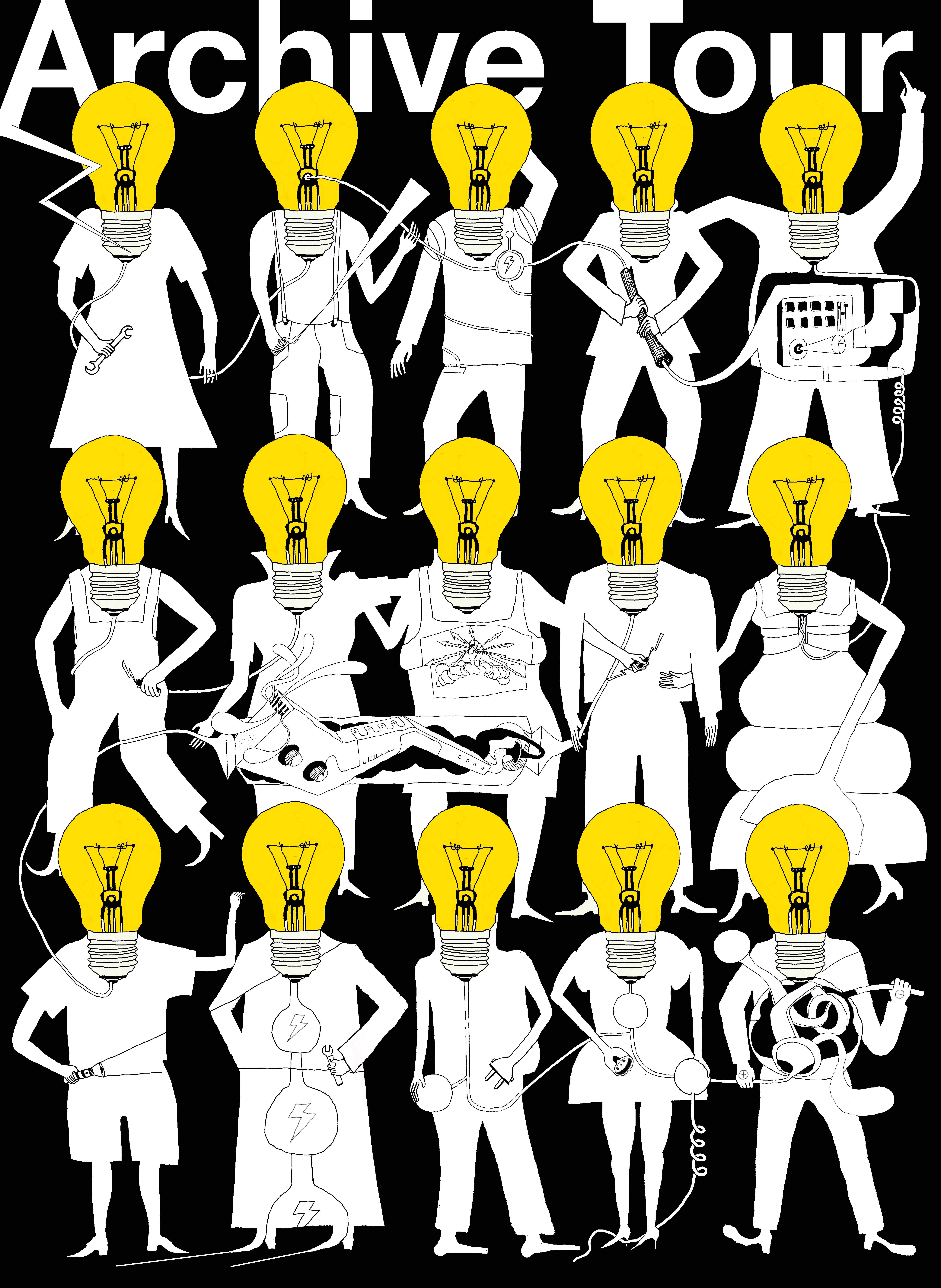 ARCHIVE TOUR
A theatrical intervention by kollektiv:proton in collaboration with E-WERK Luckenwalde & Performance Electrics
12 – 14 November 2021
Opening night
Friday 12 November 2021
18:00
Next performances
Saturday 13 November 2021
15:00h & 18:00
Sunday 14 November 2021
15:00h & 18:00
Full Price - 10€
Concession - 8€*
Child under 11 - Free
*Reduction applies to schoolchildren (11–18), students, over-65s, federal volunteers, recipients of ALG II, unemployed and people with disabilities. Children under 11 enter free.
In the Engine Room, machines are roaring again, coal dust swirls up, the building's facade becomes transparent and crumbles. What happened to Uwe? And who will supply energy to those who come after him? Headlamps point the way to the singing. Bodies tremble and brim with energy, while the turbine hall begins to glow again. The canteen is open, a company choir sings.

Through ARCHIVE TOUR, kollektiv:proton builds a bridge between art and industrial work. A body of research, in which the goal is to explore connecting elements and to deconstruct past imprints.
ARCHIVE TOUR maps a path, an exploration, a course through E-WERK Luckenwalde. The audience is invited to dive into the memories of past workers who spent their lives in the former brown-coal power station, uncovering a lifetime of work and the imprint it has left - manual work that belongs to a fading generation at the emergence of AI and digital transformation.
The production is an interdisciplinary and intergenerational intervention that explores what work can do, trigger and achieve in terms of hopefulness.
The performance will be in German but we encourage audiences of all backgrounds to attend!
Team
kollektiv:proton & guests
Direction & Concept: Robert Neumann
Set & Concept: Jan A. Schroeder
Musical direction: Matthias Bernhold
Choreography: Nadja Raszewski
Video: Bert Zander
Sound design: Erik Veenstra
Rehearsal choir: Matthias Deblitz
Dramaturgical advice: Henrik Adler
Graphics: Hanns Bahra
with: Lea-Svenja Dietrich, Sunia Asbach, Johanna Jörns, Johannes Schuchardt, Matthias Bernhold and the Lyra Chor Luckenwalde.
Thanks to the E-WERK Team: Pablo Wendel, Helen Turner, Adriana Tranca, Jann Spille, Katherine Thomson, Florine Lindner as well as Rene Schubert, Jennifer Breitrück, Agnes Mann and Bernd Schmidl.
A cooperation of kollektiv:proton, E-WERK Luckenwalde, the Tanztangente Steglitz and the Lyra Choir Luckenwalde
Supported by Fonds Darstellende Künste with funds from the Federal Government Commissioner for Culture and the Media as well as the Ministry of Science, Research and Culture of the State of Brandenburg.
Entry is only possible by following the 3G rules and wearing an FFP2 mask. If you have any further questions about our policies, please email info@kunststrom.com.
There is no step-free access to the performance. If you require this, please email info@kunststrom.com to find out how we can facilitate in other ways.
Trains leave Berlin from Südkreuz, Potsdamer Platz and Berlin Hbf every hour between 05:00 - 20:00 / 15:00 - 18:00. E-WERK Luckenwalde/Bauhaus Stadtbad is a 10-15 minute walk from Luckenwalde train station. E-WERK recommends accommodating approx. 1 hours travel time from Berlin to E-WERK. For example, to see the 15:00 viewing on Saturday, you should catch the 13:47 RE3 train from Südkreuz. To check your route from anywhere in Germany please visit here.